Today is Spirit Day #spiritday and in support of LGBTQ Youth across the nation, we are highlighting 5 anti-bullying scholarships that students can apply for.  Here at College Resource Network (www.collegeresourcenetwork.com), we fully support diversity and the right for all people to exist. We consider ourselves an ally to the LGBTQ community and have created one the most extensive LGBTQ scholarship databases in the U.S.. In honor of Spirit Day, we would like to share 5 anti-bullying scholarships.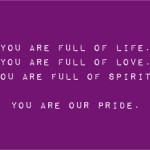 1. Parentinn – Cyberbullying Prevention for Teens Scholarship
Open to high school, undergraduate and graduate students who are U.S. citizens/ currently attending or planning to attend an U.S. college or university for undergraduate or graduate studies/ high school, college or graduate student or a student planning to enter college. Selection is based on the written essay and focused on creativity, content and a commitment to the cause of preventing cyberbullying.
Award: $2500
Number of Awards: Varies
Deadline: February 28th
Contact: https://www.parentinn.com/scholarship/
2. Hollister Co. Anti-Bullying Scholarship
Open to outstanding students who have academically persevered while experiencing bullying and to those who have led anti-bullying efforts in their schools and communities. Eligibility requirements include high school seniors with a minimum GPA of 3.0. Applicants may be from the U.S. or international.
Award: $2500
Number of Awards: Varies
Deadline: February 1
Contact: Hollister Anti-Bully Scholarship NSHSS Foundation 1936 N. Druid Hills Road Atlanta, GA 30319 USA E-mail: scholarships@nshssfoundation.org Website:www.nshssfounation.org  For the 2018 application, visit: http://nshssfoundation.org/hollister-co-anti-bullying-scholarship-application-2018/
3.  Michael's Bail Bond Co $1,000 Yearly Anti-Bullying Scholarship
Michael's Bail Bond Co, LLC realizes the effect of bullying on the lives of both students and their families. After local instances of teen suicide in Newport News, VA related to bullying, Michael's Bail Bond Co, LLC established a scholarship along with Best Selling Author Justin C. Hart, aimed at addressing the issue.
The Anti-Bullying Scholarship was established in 2016 by Woodside High School alumni Michael Ryan Crichlow, owner of Michael's Bail Bond Co, LLC and Best Selling Inspirational Author Justin C. Hart. A $1,000.00 yearly scholarship available to high school seniors currently attending Newport News Public Schools in Virginia who best exemplify how to prevent bullying and eliminate the problem of bullying in their school.
Award: $1000
Number of Awards: 1
Deadline: May 15th
Contact:  http://www.michaelsbailbond.net/scholarship.html
4. Chely Wright "Like Me" Scholarship
Open to graduating high school seniors who can show that they have actively advocated for LGBT issues, such as respect and inclusion for LGBT youth, community service at an LGBT resource, involvement and/or attendance of LGBT events, working against teen bullying or teen suicide, and any other activities that improve the condition of the LGBT community and/or improve cultural conditions for LGBT youth. This list serves as examples only, and each student's personal, individual advocacy will be different.
Award: $1250
Number of Awards: 5
Deadline: May 31
Contact: Url: likeme.org/chely-wright-scholarship/
5. Megan Meier Memorial Scholarship Against Bullying and Cyber-Bullying
Must be  enrolled as a full time student, either within his or her high school.Currently possess senior status as determined by his or her school for one academic year. Minimum 2.5GPA. Obtain a written recommendation from member of the faculty or staff at the school in which he or she is enrolled. This recommendation is to serve as validation that the applicants' words and actions promote an environment of acceptance and tolerance of differences within the school community.
Award: Varies
Number of Awards: Varies
Deadline: Not being offered in 2017. Please contact for 2018 information.
Contact:  Phone: 636.757.3501  
Email-info@meganmeierfoundation.org Url: https://www.meganmeierfoundation.org/megan-meier-memorial-scholarship.html
If you or someone you know is in suicidal crisis or emotional distress please call:
The National Suicide Prevention Lifeline 1-800-273-TALK (8255)
The call is free and available 24-hours. Your call will be routed to the nearest crisis center to you.
NATIONAL BULLYING RESOURCES:
From the Megan Meier Foundation
PACER's National Bullying prevention Center – Parent Advocacy Coalition for Educational Rights
Greatly expand the opportunities and enhance the lives of children and young adults with disabilities through concept of parents helping parents
Phone: 952-838-9000 | Website: www.PACER.org/Bullying
Centers for Disease Control and Prevention (CDC)
Federal agency that focuses national attention on developing and applying disease control and prevention including information on bullying prevention studies and methods
Website: www.cdc.gov
Stomp Out Bullying
Focuses on reducing & preventing bullying through education
Website: www.stompoutbullying.org
GLAAD (Gay & Lesbian Alliance Against Defamation)
Amplifies the voice of the LGBT community though storytelling and media use
Website: www.glaad.org
Champions Against Bullying
Focuses on the issues associated with bullying among children & work to make a safer, bully-free environment for kids
Website: www.championsagainstbullying.com
National Voices for Equality, Education and Enlightenment
Offer direct service, mentoring, & prevention education to prevent bullying, violence, and suicide
Website: www.nveee.org
U.S. Department of Health & Human Services Bullying Prevention: StopBullying.gov
Provides information from reputable government agencies on many bullying topics
Website: www.stopbullying.gov
The National School Climate Center – Educating Minds and Hearts (NSCC)
Promote & sustain positive school climates for kids  that nurtures social, emotional, ethical, and academic skills
Website: www.schoolclimate.org
National PTA
Engages & empowers communities to be advocates for all children
Website: www.pta.org
---
NATIONAL CYBERBULLYING & INTERNET SAFETY RESOURCES:
Cyberbullying Research Center
Center dedicated to providing up-to-date information about the nature, extent, causes, and consequences of cyberbullying among adolescents.
Website: www.cyberbullying.us/
Facebook Safety
Provides users with updates to help keep themselves and their families safe while using Facebook or surfing the internet.
Website: www.facebook.com/fbsafety
Family Online Safety Institute (FOSI)
FOSI works to make the online world safer for children and their families by identifying and promoting best practices, tools, and methods of online safety that also respect free expression.
Website: www.fosi.org
Cyber Tipline
Essentially the 911 of internet safety (tips regarding suspected crimes of sexual exploitation)
Phone: 1-800-843-5678 | Website: www.missingkids.com/CybertipLine
NETSMARTZ
Educational site devoted to promoting internet safety by providing resources to kids, parents, educators, and law enforcement
Website: www.netsmartz.org/Parents
Project Safe Childhood (PSC)
National public awareness campaign combating the increase of sexual predators on the internet who exploit children
Website: www.projectsafechildhood.com/
Internet Crime Complaint Center (IC3)
Partnership between FBI, the National White Collar Crime Center, and the Bureau of Justice Assistance
Website: www.ic3.gov/complaint/default.aspx
iKeepSafe
Teaches children & parents the importance of protecting personal info and avoiding inappropriate places online
Website: www.ikeepsafe.org
Common Sense Media
Rate, educate, and advocate for kids, families, and schools
Website: www.commonsensemedia.org
Net Cetera
Helps provide the people in your community with information about protecting kids online
Website: www.onguardonline.gov
SafeWise
Teen internet safety guide, easy to use for you and your family.
Website: www.usdish.com/teen-internet-safety
---