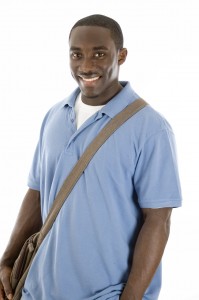 What Do Colleges Look For When Selecting Applicants
?
MYTH: Perfect grades and an outstanding SAT score will get me into the college of my choice.
This is a major source of shock and misunderstanding among students. They think that if they have the best grades and outstanding SAT scores then they will be admitted to their first-choice college. This is simply not true.
Of course, grades and SAT scores do matter a great deal but it is not the only factor in the final admissions decision.
Although there is no secret formula that will guarantee your place of admission, colleges tend to look at a combination of the following:
Academic Merit
Overall grade point average during your 4 years in high school.
Awards and Achievements
Did you make a difference in your school or community? Were you recognized and honored for your achievements?
Course Selection During High School
Did you take the most challenging classes available to you? Were you in honors classes or advanced courses? Did you earn college credit while still in high school?
Standardized Test Scores
Your test scores from either your ACT, SAT or SAT II. How did you score?
Extracurricular Activities
Were you involved in extracurricular activities? If so, did you excel and grow as a result. Did you make a difference or take on a leadership roll?
College Application Essay
This personal essay lets the admissions committee know a little more about you. It can help set you apart from other applicants and determine if you would be a good fit into the school and/or department you are applying.
Letters of Recommendation
The recommended number of letters is between 3-4. These can be from teachers, faculty or others who are familiar with your character, academic potential and achievements. You should ask people who think highly of you and make sure they are willing to take the time to write a "quality" letter of recommendation for you. Tip: Always send a thank you note or card to the person writing a letter of recommendation for you.
Level of Motivation and Drive
Are you passionate and driven to contribute and succeed in your chosen field of study. What is your motivation for wanting to attend that particular college or university?
Special Circumstances or Needs
Have you overcome tremendous personal obstacles on your academic journey? Maybe you have special needs or unique circumstances. How did you meet those challenges?
Institutional and Departmental Objectives
It can be hard to know exactly what the institutional and departmental goals are because they are often subjective. This is where the admissions process becomes somewhat mysterious.
It doesn't matter how great your grades are or perfect your SAT scores, if you don't fulfill the requirements for the institution and the department for the academic year then you will not get accepted. This may not be the only reason but it definitely plays a role in the admissions decision.
P>otential Contribution to the Program and Field of Study
What unique skill set, character traits, values, and academic attributes can you contribute to the department and field of study? How would you positively impact your school's culture and community?
Demonstrated Interest In a Particular Field
Are you passionate about a particular field of study? If so, can you demonstrate your passion and interest through examples of volunteer work, internships, summer jobs or hobbies?
Interview
An interview can be an opportunity to exhibit your strengths and let the college know more about you. Why should the college select you as part of their student body? Many times, interviewers tend to select people with whom they share similarities or interests with. This is true whether it is a college admission interview or a job interview.
Admission requirements and statistics for the following schools :
Ivy League
Brown University
Cornell University
Columbia University
Harvard University
Yale University
Dartmouth College
Princeton University